Poland: Map/Geography/Climate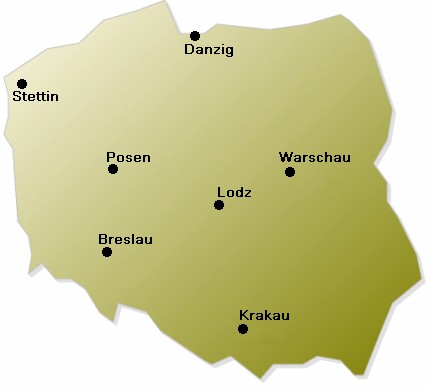 The Republic of Poland has about 312700 sq Km. In Poland live about 38 Million people. The neighbour country´s are Germany,

Although founded late in Polish history (at the beginning of the 14th century), centrally located Warsaw has been Poland's capital on and off since 1611. In Warsaw live about 1.75 Million people. Warsaw is the biggest city of Poland.

The city is divided by the Vistula River into two different parts. The western sector includes the city centre and the Old Town. Almost all attractions, as well as the lion's share of tourist facilities, are on this side of the river. The right-bank part of Warsaw, the suburb of Praga, has no major sights and hardly ever sees tourists.

The Old Town of Warsaw was rebuilt from the foundations up because after the war it was nothing but a heap of rubble. The monumental reconstruction, which took place between 1949 and 1963, aimed at restoring the appearance of the town in its best times, the 17th and 18th centuries. In 1945, the Old Town Square was just the walls of two houses sticking out of the rubble, today it is a harmonious blend of Renaissance, Baroque and Gothic elements. It's alive and atmospheric.

Warsaw's main north-south boulevard is the Royal Way, running from the Royal Castle to Lazienki Palace, the royal summer residence. This is one of Europe's grandest stretches of road, with churches, palaces, galleries and museums lining the route.

As Poland's capital, Warsaw is a busy terminus for flights, trains and buses, both domestic and international. The number of tourists visiting warsaw is about 2.5 Million at the moment.