Vietnam: Map/Geography/Climate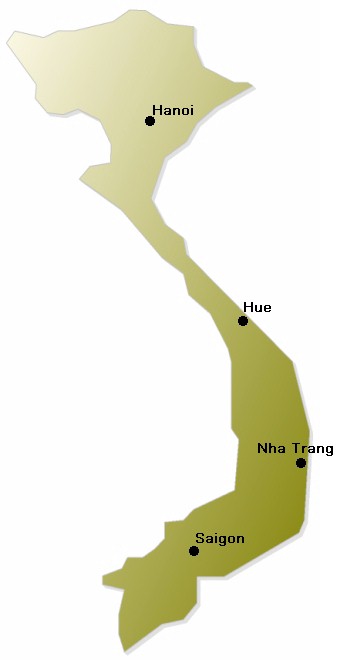 Vietnam has about 330 000 sq Km. The size of the country is about the same as Germany. In Vietnam live about 75 Million people. The neighbour country´s are Cambodia, Laos, China and the South Chinese Sea. The coastline is about 3400 Km.

The capital city of Vietnam is Hanoi in the north of the country. In Hanoi live about 1 Million people. The biggest city of Vietnam is Hoh Chi Minh City (former Saigon) in the south of the country. About 7 Million people live there.

Although Vietnam lies in the intertropical zone, local conditions vary from frosty winter in the far northern hills to the year-round subequatorial warmth of the Mekong Delta. So it is possible to visit the country the whole year, because when it is raining in the north, you can go to the south, and reverse.

Vietnam is a multi-layered country and offers attractions for every kind of travellers. If you are looking for beaches, you should go to Nha Trang. Natural wonders can be found all over the country. For example the Halong Bay, which is one of the greatest natural wonders at earth. Travellers, interested in people and their living, should visit the Mekong Delta. The kindness of the people living there, will overwhelme everybody. Last but not least Saigon and Hanoi are two of Asias most interesting cities, where it´s no problem to spend one or two additional weeks.