Sri Lanka: Map/Geography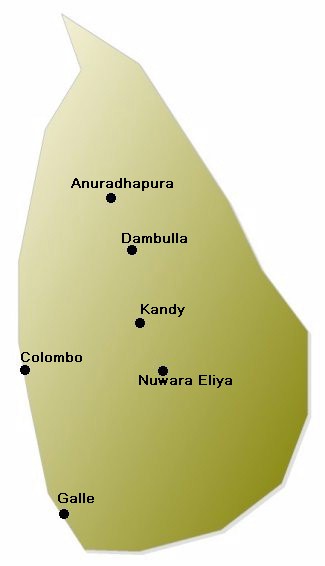 For a small island, Sri Lanka has many nicknames: Serendib, Ceylon, Teardrop of India, Resplendent Isle, Island of Dharma, Pearl of the Orient. This colourful collection reveals its richness and beauty, and the intensity of affection that it has evoked in visitors. For centuries it seduced travellers, who returned home with enchanting images of a languorous tropical isle of such deep spirituality and serenity that it entered the Western imagination as a Tahiti of the East.

Sri Lanka, an island in the Indian Ocean is located to the south of the Indian subcontinent. The total land area is 65,610 sq. km. and is astonishingly varied. A length of 445 km. and breadth of 225 km. encompasse beautiful tropical beaches, verdant vegetation, ancient monuments and a thousand delights to please all tastes. The relief features of the island consist of a mountainous mass somewhat south of the centre, with height exceeding 2,500 metres, surrounded by broad plains. Palm fringed beaches surround the island and the sea temperature rarely falls below 27 Degrees.

In the lowlands the climate is typically tropical with an average temperature of 27 Degrees in Colombo. In the higher elevations it can be quite cool with temperatures going down to 16 Degrees at an altitude of nearly 2,000 metres. Bright, sunny warm days are the rule and are common even during the height of the monsoon - climatically Sri Lanka has no off season. The south west monsoon brings rain mainly from May to July to the western, southern and central regions of the island, while the north-east monsoon rains occur in the northern and eastern regions in December and January.

Sri Lanka is mainly an agricultural country. The chief crop is rice with which the country is almost self sufficient. Tea, rubber and coconut are also important agricultural crops, with tea being a major foreign exchange earner. In addition, other crops of importance are cocoa and spices such as cinnamon, cardamom, nutmeg, pepper and cloves. Fruit and vegetables, native to both tropical and temperate regions, grow well in Sri Lanka. Sri Lanka is also a major exporter of precious and semi-precious stones. Within the last few years remittances from Sri Lankans employed abroad have contributed a large share towards foreign exchange. The last three decades have seen tourism emerge as an important industry. There has also been a rapid growth in manufacturing industries which offer a wide range of export goods such as petroleum products, leather goods, ready made garments and electronic equipment.

The Democratic Socialist Republic of Sri Lanka is a free, independent and sovereign nation. A system of administration through provincial councils was introduced in 1988. Legislative power is exercised by Parliament, elected by universal franchise on a proportional representation basis. Executive power of the people, including defence, is exercised by the President, who is also elected by the people.

Sri Lanka is the world's leading producer of high quality tea, which is our main export. Most itineraries which include hill country resorts also include a visit to a tea estate and factory to see production and processing which is done in some of the most scenic areas of the island.